How to sign up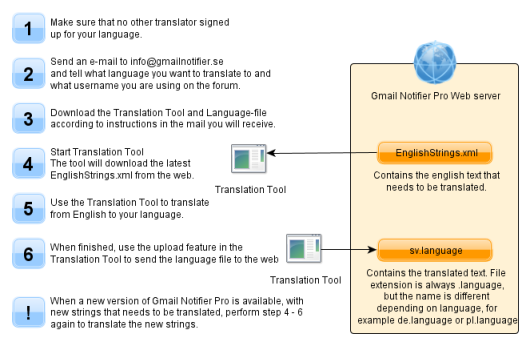 What are the benefits of being a translator?
If you help with a full translation to your language, you will get the following:
1) A free registration code for Gmail Notifier Pro that you can use. In addition, you can also get a few more free registration codes that you can give to your friends.
2) Your name will be listed in the About dialog of Gmail Notifier Pro
Upgrade to latest version of Gmail Notifier Pro
Version 2.4.2 is the first version supporting translations. Version 2.4.2 is a development version that you can upgrade to using the built-in Automatic update feature in Gmail Notifier Pro. If you havn't enabled upgrades to development versions yet, you need to go to Options -> Automatic updates and enable "Check for development versions". Save the changes and click on the blue Menu button. Then select "Check for updates".
As a translator, it is recommended to use the latest development version to be able to translate the text before a public release is made available.
How to use the Translation Tool
This is an example of the Translation Tool when translating to swedish. The window can be resized to better fit all content. Only the Translation column needs to be filled in by the translator.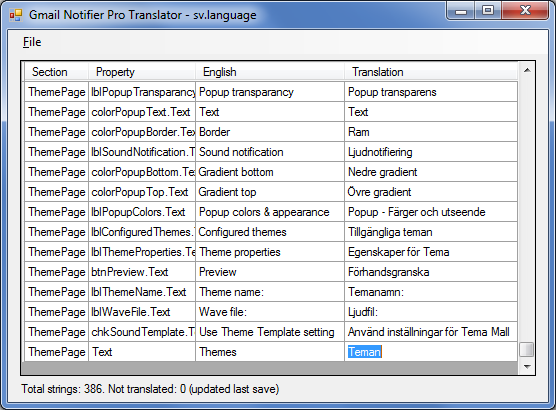 Before you close the Translation Tool, you can save your work. This updates the translation file (.language). If you want, you can test your translation by starting Gmail Notifier Pro, go to Options and select the language "TranslationTest". After restarting Gmail Notifier Pro it will use your current translation. Please note that the translation file is only read once when Gmail Notifier Pro is started. If you make any translation changes, you need to restart Gmail Notifier Pro.
When the translation is finished, use the Upload command in the File menu of the Translation Tool. Your translation file (.language) will be uploaded to the Gmail Notifier Pro web server and is ready to be included in next version. I will make sure it's being embedded and added to the list of languages with proper language name.
Markup
For a few of the strings, markup is used to force new line or create clickable links. Only used these when they are used in the english text.
&
Used to make next letter the short key. &Cancel will make Alt+C become a short key for the command, and C will be underlined.
<br/>
Forces a new line
<a>
clickable text
</a>
The text between <a> and </a> will be clickable links.
Guidelines
The application name should be "Gmail Notifier Pro" for the translations as well. Do not change/translate the application name into something else.